The Truth About Wipes and Flushability

What do these 3 objects have in common; …a "Golf Ball", "Dental Floss" and a "Paper Towel"? These 3 objects are all technically flushable.  Why? Because technically, they can all fit down the toilet drain!
Common sense and a little hands-on experience living on this planet is enough to keep most of us from flushing anything and everything that fits down that 3 – 4 inch diameter toilet drainpipe.  Still, many of us inadvertently flush things -like wipes- that we assume are flushable.
Fact is, most consumable wipe products (92%+ of them) should be disposed of in the trashcan.  Yet, municipal wastewater treatment facilities are pulling their hair out over the problems they are experiencing with products that people are flushing down the toilet.  Remember the "Fatberg" in London, U.K., a few years ago? …the congealed mass of fat, hair and baby wipes larger than 2 buses?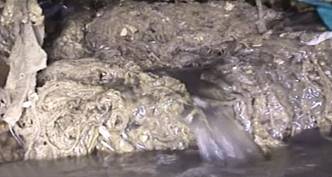 The emergence of "Fatbergs" is directly correlated to the years of neglect and other abuses by humans whom have trashed our crucial waterways.   This byproduct of ignorance is preventable, and we can (and should) be better stewards of our municipal waterways.
Here is where Tidymates® steps in with a continued-education crash course. 
The best way we can become better stewards of our municipal wastewater infrastructure is to know the difference between "what can" and "what cannot" be flushed and, to apply that awareness into the practices of our daily lives.  You see, contrary to conventional wisdom, all wipes are not created equal.  With technological advancements made in wipes over the past 20 years, there are more than 55 different kinds of wipes, and only 8% of those are categorized as "flushable wipes".   But, hardly anyone knows this.
Wipe products that make specific claims of "flushability" should be backed up by independent scientific proof, right??  Well, even in 2016, as much as we would like to trust the major flushable wipe brands proclamations, many of the largest manufacturers in the business do their testing in-house, IF they do any testing at all.  This is NOT the consumers fault.  Rather, the fault of the product claims being left up to that Company's internal Marketing Department(s).
The truth is, there is no government regulation in the flushable wipes industry.  The independent "flush tests" that a wipe supplier should perform before making "flushable" claims are expensive, time consuming and completely voluntary.
One further truth is that, even if a "flushable wipe" is independently lab tested and does PASS testing, the test results can vary wildly because the testing is PASS/FAIL.   The devil is in the details.  Just like someone who graduates with a 2.0 GPA compared to someone who graduates with a 4.0 GPA, there are significant differences in overall quality when making comparisons between flushability test results.
Consequently, mislabeled "Flush Safe" products are ubiquitous in retail stores today.  Some of these wipes may be sitting behind your toilet right now.
Naturally, Tidymates® does not make any of its own flush claims.  All of Tidymates® flushable wipes claims have been independently validated in scope by an ISO/IEC 17025 accredited lab.  Moreover, not only did Tidymates® PASS the voluntary testing, it ACED it.  After all, if our wipes are truly flushable, why wouldn't we want to back up those claims with factual, scientific data by someone other than ourselves?
To prevent potential damage to your plumbing and our environment there are several things one can do:
#1 – Be sure to use only Tidymates® flushable wipes which are scientifically proven to disperse 3X faster than leading national brands.
#2 – Follow the disposal recommendations on packaging.  Flushable Baby Wipes do not exist.
#3 – Look on packaging for language that discloses their wipe "conforms to INDA/EDANA flushability guidelines."  If this is missing, we would not suggest flushing it.
#4 – Ask your wipe supplier for the confirming independent lab testing details that validate their "flush" claims. If this document cannot be produced or, if the wipe testing came back as barely passing, we would not suggest flushing it.
#5 – "WHEN IN DOUBT, JUST THROW IT OUT."
Learn more now at www.buytrio.com