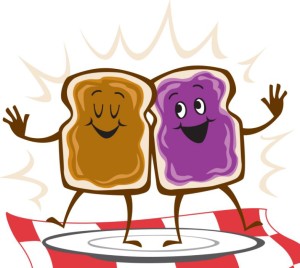 Close your eyes and imagine eating a sandwich with just Peanut Butter in it.  Now, put that sandwich down and imagine eating another sandwich, this one with just Jelly in it.
…If either one of the above, 1-ingredient sandwiches sound good to you, STOP reading any further.  In our opinion, you just can't have one without the other.  Neither compare to the good old PB&J sandwich.
Similarly, this is exactly what Tidymates® does that is better than Toilet Paper OR Flushable Wipes.
Tidymates® is the effortless combination of Toilet Paper AND Flushable Wipes to one location (your toilet paper roll holder), making an instant wet and dry system that is ready to go when you are. Having both wet and dry options readily available at one organized place makes all the difference for making personal hygiene more convenient and complete for everyone!
…Now close your eyes (again) and imagine the groped and tattered tub of wipes sitting behind your toilet [[POOF!!]], gone!
Not only that, our flushable wipes are scientifically proven, by an independent ISO/IEC 17025 accredited lab, to break apart 3X faster than leading national brands.  Despite this scientific fact, we do not make compromises in overall quality.  In order for a wipe to make it to become a Tidymates® flushable wipe, it must excel in 6 specific metrics.  Click HERE to see the real science that goes into our wipes.
Whether new to using wipes in the bathroom or a veteran to the practice, the patented Tidymates® system will significantly raise the bar in personal hygiene in a way that everyone in your home can appreciate.  Learn more about everything special that Tidymates® can do for your household at www.buytrio.com
Tidy it up!